THE MUSIC BOX OF HORRORS AT THE DRIVE-IN!
Posted : October 2nd, 2020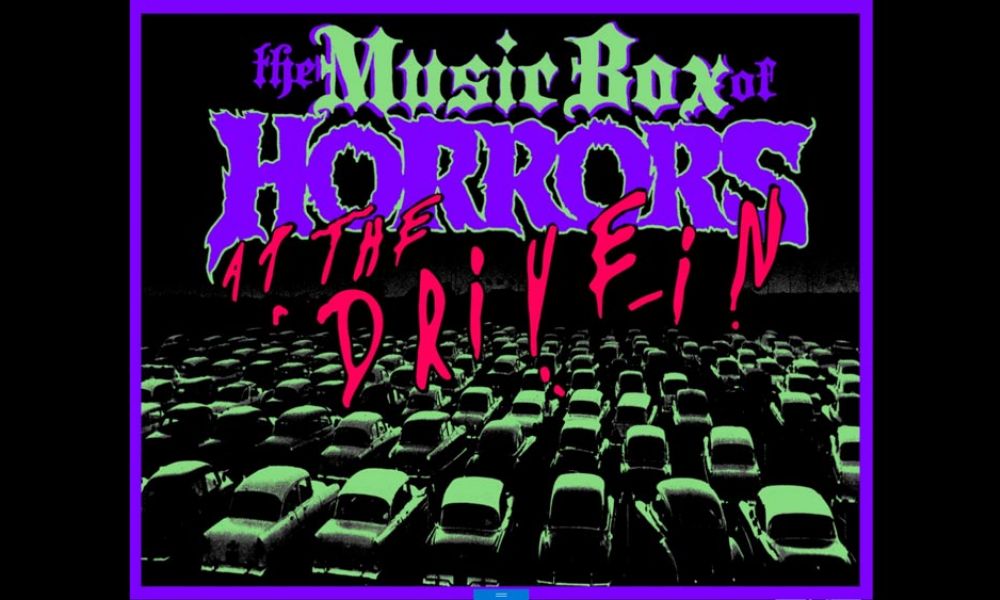 Do you feel that chill running up your spine? That means it's almost time for THE MUSIC BOX OF HORRORS AT THE DRIVE-IN! Presented by Shudder and co-sponsored by Creepy Co, get ready for a month-long monument of cinematic terror, all October long at ChiTown Movies Drive-In on Throop St, courtesy of your frightful friends at the Music Box.
Each night will include a text-to-win Trivia Contests with rare prizes, and awesome, Retro Trailers before the film. In addition to the usual concessions, you can order aMusic Box of Tacos, complete with a collectible postcard and novelty Halloween toys.
Plus, you'll get to hear from your favorite filmmakers, with pre-show introductions and exclusive Q&As. This Thursday, our Opening Night Premiere of POSSESSOR will feature a pre-recorded Q&A with filmmaker Brandon Cronenberg. This Friday, our BLACULA & BLADE II Double Feature includes a post-film Q&A with BLACULA director William Crane, followed by pre-recorded introduction to BLADE II from director Guillermo Del Toro! Our 31 day schedule is filled with excusive conversations with special guests like these, sharing behind-the-scenes stories and insights on your favorite horror movies.
This is the most ambitious and wide-ranging celebration of horror movies the Music Box has done in our 91-year history. From the first ever Mexican horror film LA LLORONA (1933), restored and having its Chicago Premiere, to the wild and weird world of Hong Kong Horror (the absurd double feature of BLACK MAGIC 2 & EVIL CAT) to a Clint Howard double feature. Whether you are a horror hound, or just looking for a spooky event to do this Halloween season, THE MUSIC BOX OF HORRORS AT THE DRIVE-IN has something for you.
Our first week also includes presentations of THE TEXAS CHAINSAW MASSACRE 2, Bong Joon-Ho's THE HOST, THE RETURN OF THE LIVING DEAD, RE-ANIMATOR with a Stuart Gordon Tribute, and ATTACK THE BLOCK.
Click Here for the MUSIC BOX OF HORRORS AT THE DRIVE-IN Full Schedule & Get Your Tickets Now. Scroll down for more info on our screenings on October 1st-8th.
POSSESSOR will also be playing at the Music Box starting this Friday, Click Here for Showtimes & Advance Tickets.
Also playing at the theatre this weekend, Christopher Nolan's mind-bending actioner TENET, now playing on DCP.
If you'd like to bring some thrills home, check out 12 HOUR SHIFT in our Virtual Cinema. Written & directed by Brea Grant, an Arkansas nurse gets caught up in a heist gone wrong in this "Acerbic screwball crime caper that has its razor-sharp tongue planted firmly in its cheek" (Daily Dead). Click Here to Pre-Order 12 HOUR SHIFT in Virtual Cinema.
Also new in Virtual Cinema, the documentary PUSHsheds new light on the housing crisis, and the forces behind the scenes that have brought us to this predicament. Lively and timely, PUSH "Leave[s] audiences feeling engaged, enraged and with plenty to discuss afterwards" (Screen Daily). Click Here to Watch PUSH in Virtual Cinema.
And if you aren't able to attend our Drive-In Premiere tonight, the new drama ONCE UPON A RIVER is now available in Virtual Cinema. Based on the best-selling novel, ONCE UPON A RIVER is the directorial debut of Chicago-based singer/songwriter Haroula Rose. Click Here to Watch ONCE UPON A RIVER Now.
And you can still support the Music Box by watching other great films in Virtual Cinema, including the Chicago-set romance DREAMING GRAND AVENUE, the eye-opening documentary OLIVER SACKS: HIS OWN LIFE, the gripping thriller ALONE, supernatural comedy DEAD, and many more.
See you at the movies! Full details and info at https://musicboxtheatre.com/events/music-box-of-horrors-at-the-drive-in-presented-by-shudder