Halloween Horror Film Fest at the Catlow Theater, Oct. 26
Posted : October 17th, 2019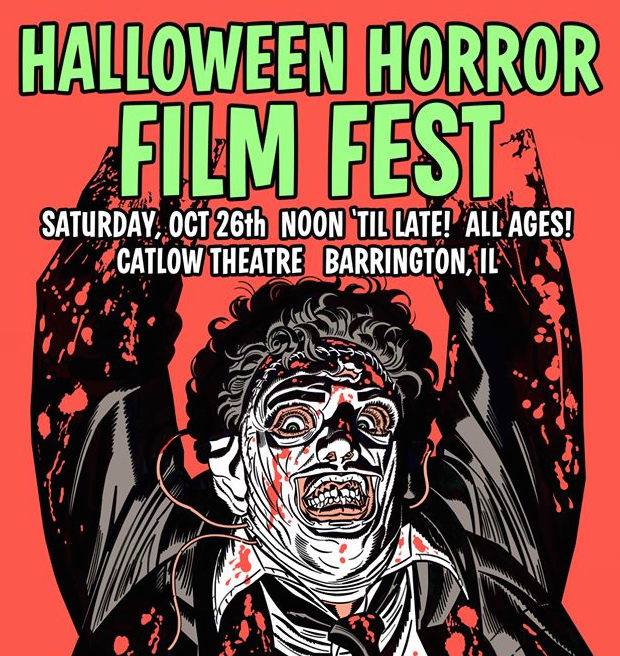 Saturday, Oct. 26 at the Catlow Theater , 116 W. Main St. in Barrington, IL, noon 'til late! – All-Ages – Handicapped Accessible
FILM LINE-UP/TIMING SCHEDULE:
Noon – HOUSE ON HAUNTED HILL (Vincent Price)
1:30pm – SPIDER BABY (Sid Haig Tribute)
3:20pm – THE METHOD (short film by Lomai)
3:30pm – NIGHT OF THE LIVING DEAD (George Romero)
5:30pm – GRAY MATTER (Barrington Premiere)
6:15pm – DEAD & BURIED (dir. GARY SHERMAN in Person!)
8:30pm – EVIL DEAD 2 (Sam Raimi)
10:15pm – TEXAS CHAINSAW MASSACRE (Tobe Hooper)
Sponsored by Illuminated Brew Works
Midnight – DEMONS (Lamberto Bava)
Vendors:
Time Warp Collectibles
Reel Art
Pretty Spooky Handmade
Chris Kutchka Artist
Horror Host
House of Monsters
Horror Mansion
Tickets only $18, $24 at the door. Presale tickets here: https://www.brownpapertickets.com/event/4343129
Facebook event page: https://www.facebook.com/events/2998750490199558/
Catlow Theater website: https://www.thecatlow.com
PLUS: Vendors, Free Posters, Charity Auction & More! Pay Once, Come and Go As You Like!
Films, Guests, Times Subject To Change, No Returns, No Refunds.