The Final Trope at Columbia College's Hokin Gallery, Opening Oct. 29th
Posted : October 25th, 2018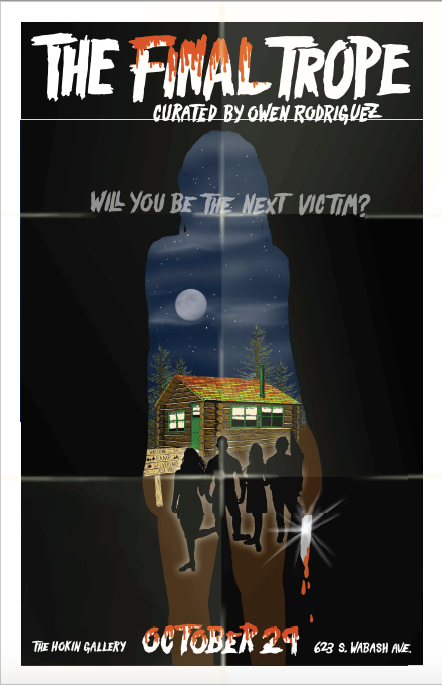 The Final Trope
Curated by Owen Rodriguez
Hokin Gallery: 623 S Wabash, 1st floor Chicago, IL 60605
Exhibition Dates: October 29th, 2018-January, 2019.
Gallery Hours: Monday–Friday 9 a.m.–10 p.m., Saturday 8 a.m.–6 p.m.
The Hokin Gallery opens a new installation, The Final Trope, on Monday, October 29, 2018. In time for the Halloween season, the exhibit takes visitors through a horror movie set while exploring the use of character stereotypes often found in this film genre.
Horror films use familiar plot devices to tell stories and give viewers a rush of pure entertainment, but, past the jump scare when the monster jumps from behind the door, horror aficionados know that the repetition of characters and plot points across films belies a coded morality. These recurring concepts, known as tropes, include a minority who dies first, or the Final Girl who must remain pure in order to survive the axe murderer. In films like Dawn of the Dead, the Halloween franchise, and I Spit on your Grave, marginalized groups are often exploited and their bodies brutally punished for deviations from an underlying set of norms.
Presented on the film set of haunted Camp Silver Lake, the Fall 2018 Hokin Project Exhibition The Final Trope explores these plot devices to tell its narrative from the perspective of the five characters meeting their fates in a cabin in the woods. Whether die hard horror fans or newcomers to the genre, attendees experience an innovative take on the way horror cinema constructs characters and norms.
The Hokin Project is a Gallery Management Practicum course of the Business & Entrepreneurship Department, in collaboration with the Department of Exhibitions, Performance and Student Spaces (DEPS). The Hokin Project provides students of all majors with gallery
management, exhibition, curatorial, and design experience. The Project presents the work of the Columbia College Chicago community through programs, events, and exhibitions.Admittance and viewing of the installation are free.
For more information:
https://thefinaltrope.wordpress.com
https://www.facebook.com/TheFinalTrope/
https://www.instagram.com/thefinaltrope/