Masquerade D'Vampire brings the best of Halloween to Urbana on Sat., Oct. 13th
Posted : October 11th, 2018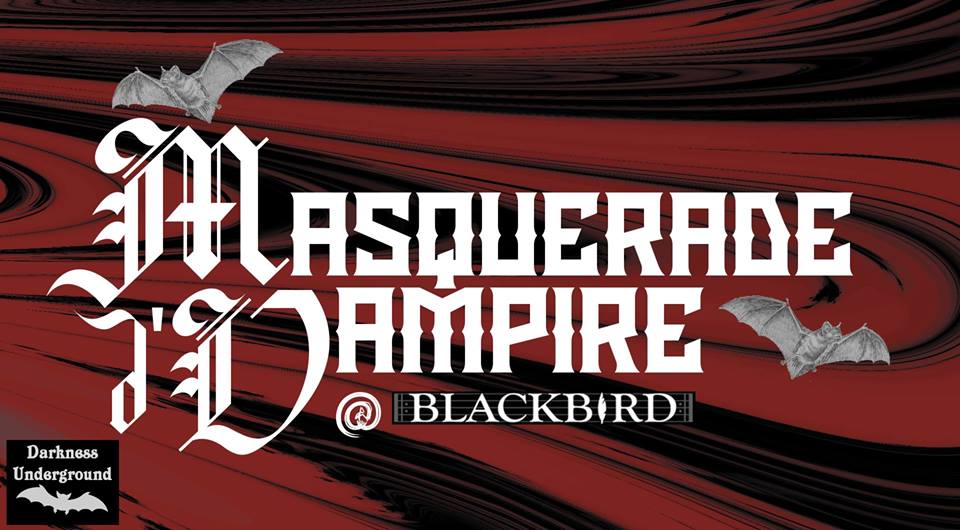 For Halloween enthusiasts, vampire lore fanatics, and anyone looking for something new to do, the event of the year is approaching. At 8 p.m. on Saturday, October 13, the doors open for Masquerade d'Vampire at Blackbird Urbana.
"Anyone age 19 and up should have fun here," said organizer J.L. Benet. Attendees should dress to impress and come ready to dance.
The event's most famous performer is D.J. Scary Lady Sarah, who performs all over the world and has hosted the world's longest-running goth club night, Nocturna, for the past 30 years. Fans are anticipated to travel from at least as far as Chicago and Indianapolis.
Champaign-Urbana's once-flourishing goth scene was in decline even before their unofficial home, C-Street, closed its doors. Without a "home" club, enthusiasts have had to travel as far away as Chicago, Indianapolis, or even St. Louis. On October 13, though, Urbana is the place to be. Benet hopes his promoting group, The Darkness Underground, can help make Chambana goth again.
This may all sound a bit intense for the novice or the Halloween-casual, but Benet assures that there's fun for everyone at the Masquerade. "I have attended vampire balls in Detroit, Tampa, and Denver. They brought a diverse crowd and were always the highlight of the year. The broader appeal brings in more, which was something very important in a city with a small goth community."
Besides dancing their immortal behinds off, partygoers can enjoy a costume contest, metal-bellydance by Stygian Sisters, hoop and fire dancing, tarot and palm readings by Liz Rowland, special effects make-up demonstrations by local artist Breelyn Faye, and custom dental fang fittings by Maven Lore. "Maven coined the term "fangsmith" and has been making dental-quality fangs for vampire enthusiasts for over 20 years. His work has been in many documentaries, and he's doing me the personal favor of coming from New Orleans," Benet said.
Costume is optional but encouraged, and who doesn't enjoy a night of dress-up, entertainment, and themed food and drink? "I plan to post some costume ideas on the event page," Benet said. "Going to Dallas & Co. would likely be helpful for those looking for costume ideas. They also have masquerade masks there. Going to the make-up demonstration on Saturday, or getting Maven to make fangs for them prior to the actual event would also help."
Advance tickets are $10 at jlbenet.com/vampire, and at Enchantment Alley. Breelyn Faye will provide an advance makeup demonstration/tutorial at Enchantment Alley at 12 p.m. Saturday, October 13.
WHERE: Blackbird Urbana
WHEN: Saturday, October 13 from 8 p.m. to 2 a.m.
TICKETS: $10 in advance at http://www.jlbenet.com/vampire or Enchantment Alley. If tickets have not sold out, they will be sold at the door for a higher cost.