Terror in the Aisles presents The Massacre at the Davis Theater, Sept. 29-30
Posted : September 21st, 2018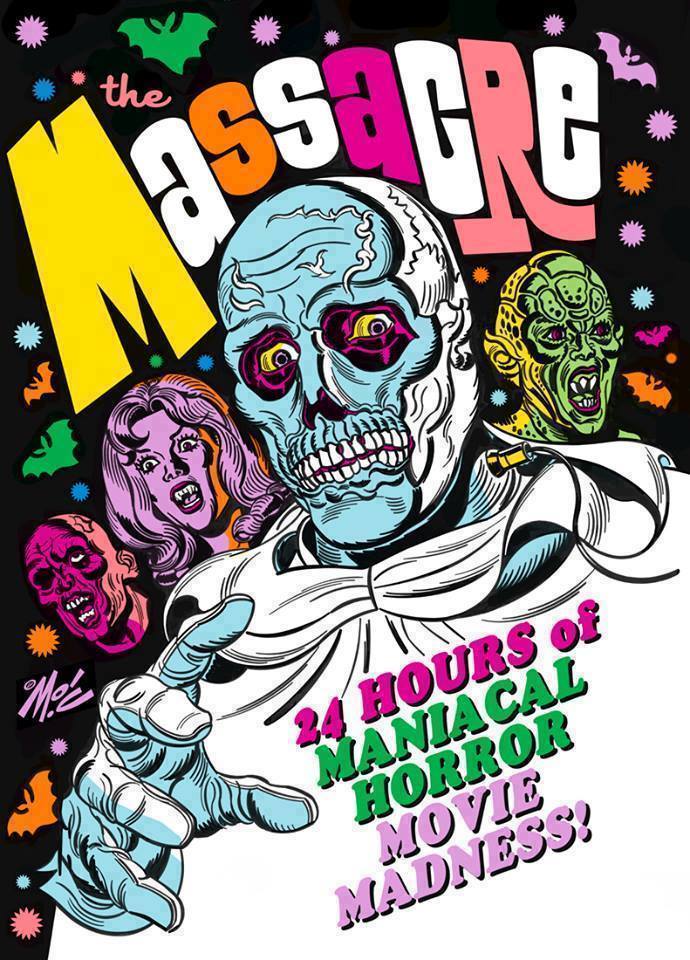 Terror in the Aisles presents The Massacre, 24-Hours-of-horror-movie-insanity! Sept 29, 2018, Noon 'til Noon – All Ages at the Davis Theater, 4614 N. Lincoln Ave., Chicago, IL
Film Line-Up:
Noon – The Sealed Room (Silent Short Film with Live Organ)
12:15 PM The Mummy (Sponsored by House of Monsters)
1:50 PM Plague of the Zombies (Sponsored by House of Monsters)
3:40 PM Short Films
4:20 PM Female Trouble (Sponsored by Jason Swanson)
6:15 PM People Under the Stairs (Sponsored by Neon Movie Bunker)
8:15 PM Nightmare on Elm St. #4 (star Tuesday Knight in Person!)
10:20 PM American Werewolf in London
12:15 AM Texas Chainsaw Massacre (Sponsored by Dark Sky Films)
1:45 AM Nightbreed
4:05 AM Zombie 3 (Sponsored by Severin Films)
5:50 AM God Told Me To (Sponsored by House of Monsters)
7:45 AM The Changeling (Sponsored by Severin Films)
9:45 AM Psycho II
Short Films Include:
Open Caskets: Bad Sleep by FlemFilms
Terms and Conditions – by Erik Gulbrandsen
Don't Go Down Into The Cellar – by Corey Kuropas & Drew Martyn
Night of the Martian Girlfriends – by Down With That Productions
goWitch's Rite – by dir. Jordan Selander.
Abi Teaser Trailer" by Crazy Little Monster Productions
Vendors Include:
Terror in the Aisles
House of Monsters
Reel Art
Time Warp Collectables
Cain's Collectables
Severin Films
Horror Host
The Art of Eric Rot
CinemApocalypse- The Art Kevin Kehoe
Bric-A-Brac Records
Tickets $30 presale online here: https://www.brownpapertickets.com/event/3508839 / $35 at the door, day of sale.
Plus: Vendors, Vintage Trailers, Free Posters, Charity Auctions for Vitalbridges.org and more.
No Outside Food Or Drink Please.
Pay Once, Come & Go As You Like.
Films, Times, Guests Subject To Change.
For more info: http://www.facebook.com/terrorintheaisles and https://www.facebook.com/events/674346579565703/
No Returns, No Refunds.