Bloodlines Screening at Landmark Century Cinema on August 30th
Posted : August 18th, 2018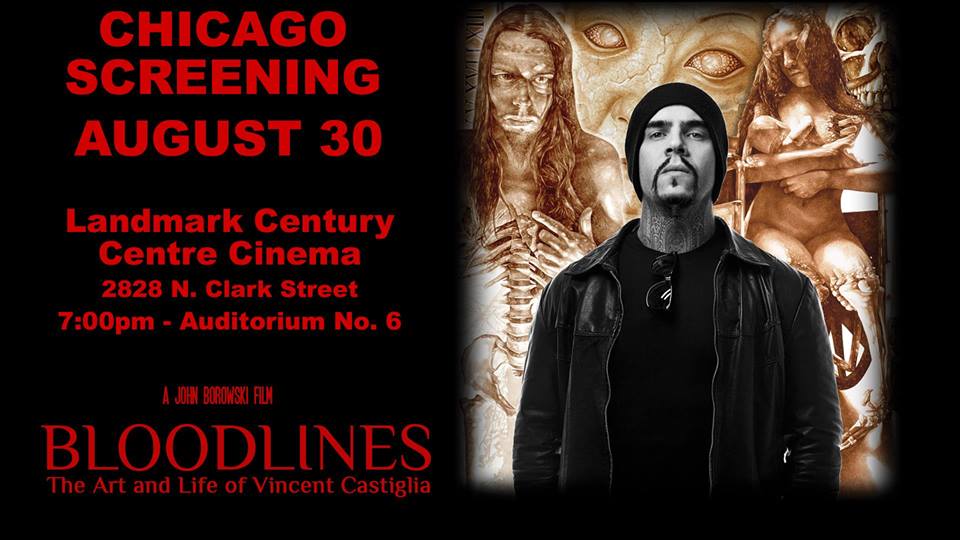 Chicago documentarian John Borowski will host a screening of his newest film Bloodlines: The Art and Life of Vincent Castiglia at the Landmark Century Cinema at 7:00 pm on August 30th.
Vincent Castiglia paints in human blood. The haunting, yet beautiful, images are of human bodies in various forms of decay. Award winning indie filmmaker/author John Borowski (H.H. Holmes: America's First Serial Killer) has directed and produced the feature documentary film on the art and life of Vincent Castiglia. The reasons why Castiglia began painting in blood are explored in this emotional rollercoaster ride portrayed on film. Borowski stated, "This is a deeply personal film for Vincent and I am honored to have worked closely with him on the film. I feel many people will see this film as inspirational, even though it is a dark ride through pain and suffering. Vincent's life journey, much like his art, reflects both the dark and ultimately the light that shines through the darkness." Margaret Cho, who commissioned Vincent to paint her portrait in her blood, is interviewed in the film as well as celebrities Gregg Allman, Damien Echols, Kerry King and Gary Holt of the heavy metal band Slayer, record executive Michael Alago, and numerous others including filming in the Switzerland studio and museum of legendary artist H.R. Giger, who designed the iconic creature for the Alien movies.
The Landmark is located at 2828 N. Clark St. in Chicago.
Bloodlines will be released on November 13th, 2018.
More information can be found at https://www.facebook.com/events/2144898645795976/.
You must log in to post a comment.