Zombie Apocalypse Part at Redemption Night Club, June 2nd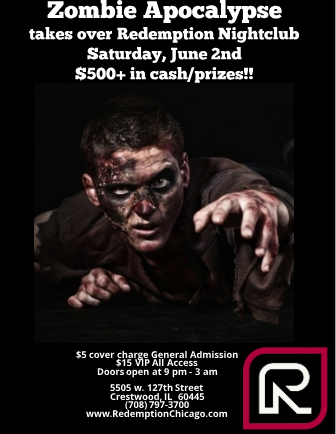 Join us at Redemption as the Zombies come alive! Zombie Apocalypse takes over Redemption Saturday, June 2nd from 9pm-3am.
Over $500 in cash/prizes for best costumes! Zombie inspired craft cocktails, music! Winners announced at 1 am! Crawl in, and enjoy the show.
General Admission Free / VIP Access to the Zombie Room – $15/person
Redemption NightClub & Lounge
5505 West 127th Street
2nd floor of Southwest Ice Arena
Crestwood, IL 60445
Details at https://www.eventbrite.com/e/zombie-apocalypse-redemption-nightclub-june-2nd-tickets-46032843474