Ghostlight Ensemble presents Nutcracker Nightmare as part of Gingerbread Grindhouse this December
Posted : November 20th, 2017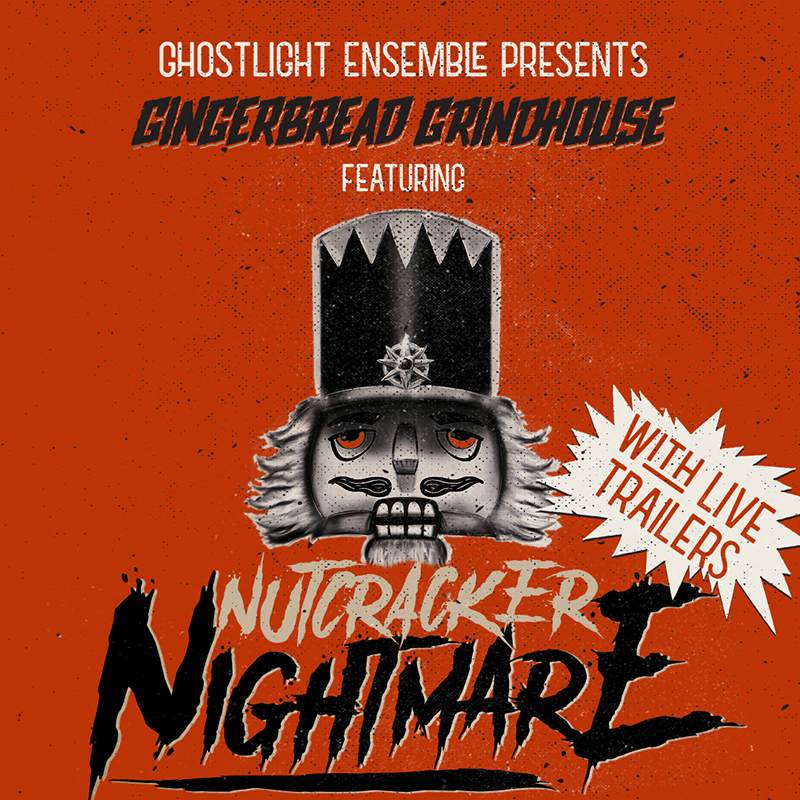 CHICAGO – Ghostlight Ensemble continues its holiday horror tradition this season, bringing Gingerbread Grindhouse to the Greenhouse Theater Center after-hours in December.
In a nod to the lurid, violent films popular in the 1930s through 1970s, Gingerbread Grindhouse will feature a series of live "trailers" for grindhouse-style plays yet to be, before continuing on to the feature production, Nutcracker Nightmare – a holiday tale of children, the toys they love and the toys that try to kill everyone they love. It's the perfect holiday entertainment.
"There's only so much joy and peace on Earth and A Christmas Carol people can take during the holidays. Sometimes you just need to see folks get stabbed with comically large scissors to make it through the season," said Director Chad Wise. "We're here to provide that, while still telling a darkly funny story about loss, recovery and how children have something to teach us all about the healing power of love."
Nutcracker Nightmare, written by Maria Burnham, presents a world where dolls come to life and little children dream of sugar plum fairies. But a new evil has emerged from the toy box and it's up to one young girl, a rag doll, a toy soldier and a ballerina mouse to prevent the total destruction of Christmas. Envisioned as a sequel to E.T.A. Hoffmann's classic holiday tale, Nutcracker Nightmare gives us a reality in which it sometimes takes a nightmare to wake us up and make us see things as they truly are.
"Dolls are scary things," says playwright Maria Burnham. "They look human, but they aren't and our brains can't handle that.
"And coupled with that there are very real traditions centered around dolls coming to life to achieve some objective – from Guatemalan worry dolls, like the ones you'll meet in this story, meant to take away people's worries to Elf on a Shelf meant to keep an eye on boys and girls for Santa," she continued. "And every time I hear one of these stories I just think, 'This sort of thing never ends well.' And that's where this play was born."
Nutcracker Nightmare stars Alexandra Alontaga, Jean E. Burr, Sean Harklerode, Annie Hogan, Maura Hogan, Tatum Hunter, Kirk Jackson, Victoria Jacobson, Serina Johnston, Allison McCorkle, P. Tyler Nielsen and Mark Pracht.
The production will also feature grindhouse-style trailers by Babes With Blades, New Millennium Theatre Co., Improvised Twilight Zone, Improvised Jane Austen, The Stuntmen and Ghostlight Ensemble.
Gingerbread Grindhouse takes place at 10:30 p.m. on December 8, 9, 15 and 16, at the Greenhouse Theater Center (2257 N Lincoln Ave, Chicago, 60614) in Lincoln Park. Tickets are $15 and are available now through the Greenhouse website at https://www.greenhousetheater.org/gingerbreadgrindhouse, via email at boxoffice@greenhousetheater.org or over the phone at 773-404-7336.
Ghostlight Ensemble is a registered 501(c)3 nonprofit theatre whose mission it is to shed light on the human experience and provoke communal connections beyond the edge of the stage.
For more information, contact Maria Burnham at 773-377-5342 or press@ghoslightensemble.com. More information is available on our website at GhostlightEnsemble.com.