Hollywood Blvd. Cinema's Month of Horror!
Posted : October 5th, 2017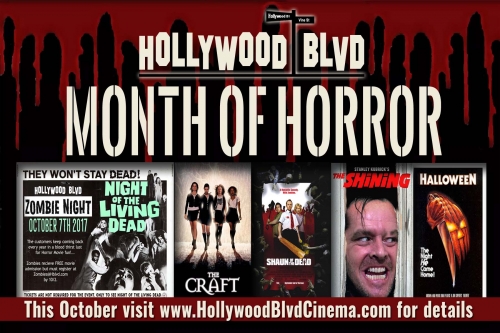 A month full of Zombie Nights, Costume Parties, Throwback Horror Movies and of course Horror Movie Trivia.
Horror Movie Throwbacks: Tickets are $6 and on Sale Now!
October 7th –  Night of the Living Dead (1968)  SATURDAY Screening! Zombie Night– Zombies receive FREE admission to the movie but must register ahead of time by emailing zombies@hblvd.com (Must arrive in costume to receive ticket). Local Horror artists 8:00 – 9:30 pm.
October 11th –  The Craft (1996) Witches Night– A perfect excuse to dress up with your favorite hags as witches, or just come and enjoy a witches brew martini.
October 14th – Shaun of the Dead (2004)  SATURDAY Screening!
October 18th – The Shining (1980) 
Halloween Themed Events:
October 10th- Horror Movie Trivia- CLICK HERE to visit our Trivia Page for full details.
October 28th- Little Monster Bash- CLICK HERE to visit our Kids Halloween Party page for details.
 NEW Horror Movies Opening at BLVD: Click on movie name for description & trailer
Visit http://www.hollywoodblvdcinema.com/events/2017/10/07/special-events/horror-month/ for additional information and to get tickets!