Carrie Monster's Halloween Horror Hop, Oct. 14th!
Posted : October 5th, 2017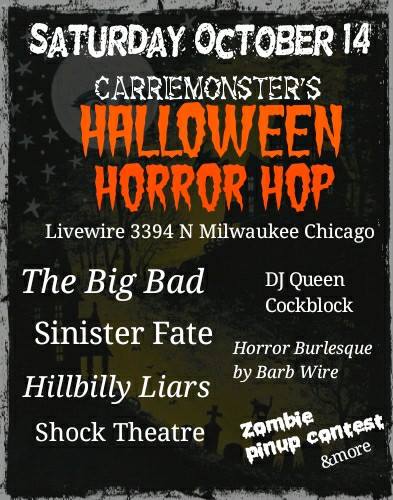 Celebrate the spooky season at CarrieMonster's first annual Halloween Horror Hop!
With spooktacular musical acts The Undead Sons of Appalachia (the Pretty Boys Of Horror Punk!) and THE BIG BAD in their debut Chicago performance! Plus Chicago's hauntingly dark and evil SINISTER FATE, Chicagoland's favorite undead hillbillies HILLBILLY LIARS, SHOCK THEATRE and horror Burlesque by the hauntingly beautiful BARB WIRE & FIENDS!
Monster musical stylings of DJ QUEEN COCKBLOCK and a ZOMBIE PINUP CONTEST!
All this for $10!
8pm til 3am!
21 & over please
It's going to be THE don't miss SPOOKTACULAR of the season! https://www.facebook.com/events/111067052943620/