Mystery Science Theater 3000 "Watch Out for Snakes!" Tour Live! at The Vic Theatre, July 16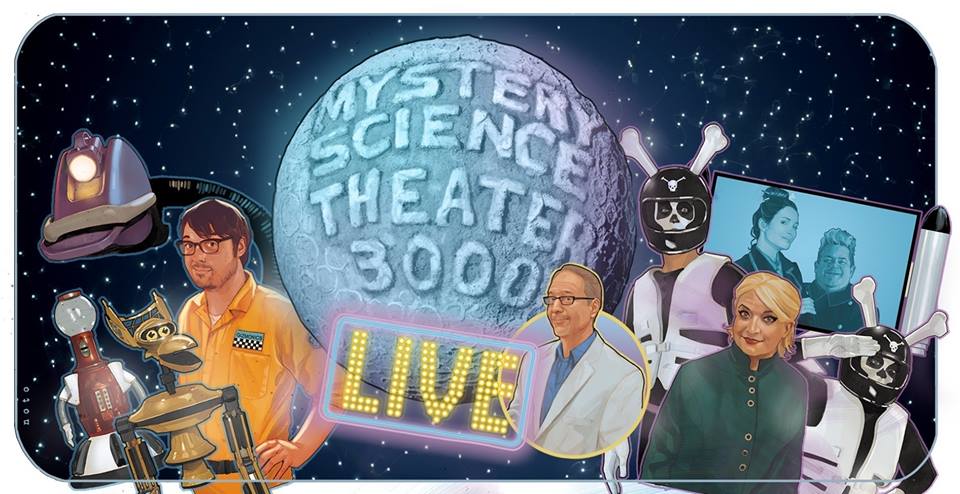 For the first time ever, join Joel Hodgson, creator of the critically acclaimed "Mystery Science Theater 3000" TV show and its new host Jonah Heston (Jonah Ray) as they bring the first live touring production of "MST3K" to a city near you on the "Watch Out for Snakes!" Tour.
Appearing with Joel and Jonah live on stage will be robot companions Crow (Hampton Yount), Tom Servo and Gypsy, along with Synthia (Rebecca Hanson) and her Bonehead henchmen. Of course, it wouldn't be "MST3K" without the ever-present surveillance of the Mads, Kinga Forrester (Felicia Day) and TV's Son of TV's Frank (Patton Oswalt), checking up on their unwilling test subjects via a video screen.
The tour consists of two separate, completely unique shows, each with its own admission. Fans wanting the complete tour experience should purchase two tickets, one for each show. Each event will include all the things expected from an "MST3K" experience: a cheesy B-movie, hilarious riffing, wisecracking robots, silly sketches, plus – for the first time – audience participation! Show # 1 is the MST3K favorite "Eegah," featuring all-new riffs and sketches. Show # 2 is a "Secret Surprise Film!" It's a fun, sci-fi thriller never before featured on "MST3K" and it will be performed only in select cities.
Following its record-breaking #BringBackMST3K Kickstarter campaign, the new season of the show launched on April 14, 2017, exclusively on Netflix. The two live shows are written by the cast and writers of the new Netflix Original Series, which has earned a critics' rating of 100% Fresh on Rotten Tomatoes.. The New York Times hails, "At last, a revival of something actually worth reviving… a different cast but the same outlook and style — and mercifully, the same reliable, giddy humor."
"MST3K is just as hilarious as ever in rebooted form, turning its bemused eye on old, schlocky fare for some good, old-fashioned riffing," raves Vanity Fair. And Nerdist says "The references are updated, the sets are snazzier, but the heart and soul of MST3K certainly remains intact."
Facebook Event Page: https://www.facebook.com/events/1950487058530442/
Official Site: http://www.mst3k.com/tour