Maul Santa: The Musical at the Public House Theatre, December 4-19
Posted : November 29th, 2015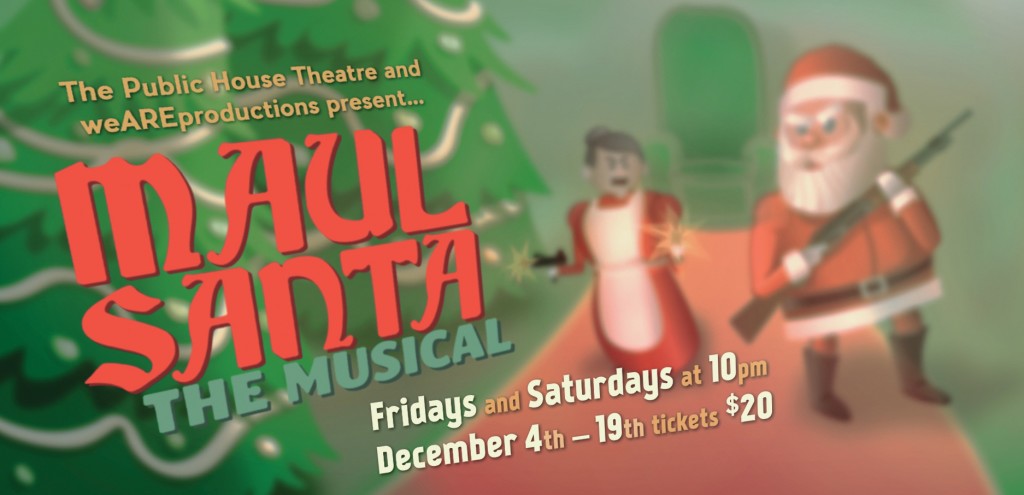 CAN SANTA CLAUS SURVIVE THE ZOMBIE APOCALYPSE IN THE PUBLIC HOUSE THEATRE'S NEW MUSICAL?
Christmas is in danger! After 1,000 years of marriage, Mr. and Mrs. Claus' relationship is on the rocks. As their tension boils over during one of their routine mall stops, a zombie invasion breaks out, threatening to destroy the holiday season. Can Mr. and Mrs. Claus work past their differences to save not only Christmas but life as we know it Will they mend their fractured relationship before humanity is doomed? Time to get locked and loaded for this action packed Zombie Rock Musical!
 "Maul Santa: The Musical" was created by weAREproductions– the same minds that have delighted holiday audiences with "A Nightmare on Backstreet," "Bates: An 80's Musical 'Psycho' Parody" and "Babysitter Massacre '78: The Musical." "Maul Santa" opens on Friday, December 4th at 10pm and runs on Fridays and Saturdays at 10pm until December 19th. The show runs 75 minutes with one 10-minute intermission. Tickets: $20
Some Public House Theatre veterans make up the cast of 6: Ali Delianides (Mrs. Claus), Jon Penick (Santa), Kyle Encinas (Barry), Aaron Sarka (Larry), Cat Ring (Timmy) and Noah Arnold (P.A./Zombie).
"Maul Santa" was written and directed by Ricky Glore, with music and lyrics by J. Sebastian Fabal.
Website: http://pubhousetheatre.com/maulsanta/
3914 N. Clark Street (at Byron Street)
Chicago, IL 60613
For Tickets, call: 800.650.6449 or Visit: PubHouseTheatre.com. Tickets may also be purchased at the door.