Basil Gogos, The Addams Family Cast to Headline All Night Flea Market
Posted : August 13th, 2015
Courtesy of Kreepylady Kristin / The Chicago Creepout: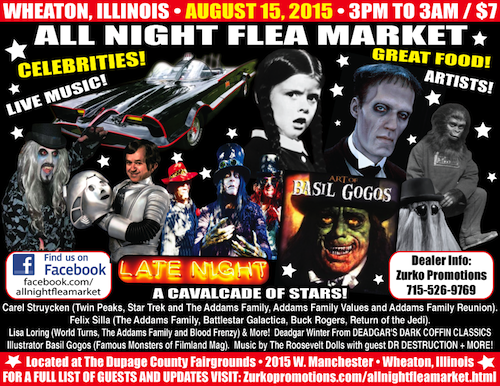 This Saturday, monster fans everywhere are heading to the Wheaton All Night Flea Market to meet cast members of The Addams Family and celebrated illustrator Basil Gogos on August 15th, from 3pm-3am! This festival runs late, so it's a perfect time to get into the Halloween spirit a little early and meet fellow fans.
Highlights include:
The Addams Family Cast Reunion: Carel Struycken ("LURCH," the Giant in Twin Peaks), Felix Silla ("COUSIN ITT," Ewok in Return of the Jedi, The Manitou, The Brood), and Lisa Loring ("WEDNESDAY ADDAMS," Blood Frenzy).
Basil Gogos – One of the greatest living American illustrators of our time! Basil's attention-grabbing, vivid monster art has appeared on the covers of around 50 issues of Famous Monsters of Filmland horror magazine.
Batmobile -Get a photo taken next to a classic '60s Batmobile and an 8×10 glossy photo of yourself sitting inside it.
Ron Fitzgerald – Award-winning actor, gothic illusionist, and host of Chicago festivals and burlesque performances who has appeared in films such as Magus, Dark Realm, and Orgy of the Damned.
Deadgar Winter – Co-host of Deadgar's Coffin Classics in Wisconsin.
Undead Johnny – Undead Johnny and members of the "World of the Weird Monster Show" return for more sketch horror comedy fun.
Ari Lehman – Composer, award-winning jazz musician, and actor best known for his role in the original Friday the 13th as "Jason Voorhees" as a child. Leads his band First Jason and has toured as a keyboardist for many bands.
Music – Live performances by The Roosevelt Dolls with guest Dr. Destruction, Hi/Jack, First Jason, Electric Medicine, and more.
Artists and More! – Even more performances, artists (Rob. E. Brown, Connie Faye, Roger Scholz, Linda Touby), bands, vendors, and guests. Too many to list!
Tickets are only $7 and children ages 12 and under get in for free!
Located on the DuPage County Fairgrounds, 2015 W. Manchester, Wheaton, IL 60189. For more information, contact Zurko Promotions at 715-526-9769. Find updates on their Facebook page at allnightfleamarket.