A GIRL WALKS HOME ALONE at the Gene Siskel Film Center
Posted : January 7th, 2015
This spookily sumptuous neo-noir shot in velvety black-and-white is the American indie discovery of the year, possibly of the decade. Iranian American director Amirpour, a former rock band diva, emerges from the shadows a full-blown cinema auteur with a cryptic vampire tale set in a dusty ghost town somewhere left of Spaghetti Western territory and frozen in a Fifties time capsule. Imaginary Bad City sits at the foot of an oil refinery and crawls with low-life losers who just happen to speak Persian. James Dean-styled hunk Arash (Marandi) has a cat for a sidekick and the hottest wheels in town until the drug dealer takes the keys. The Girl (Vand), a nocturnal specter in a long black chador, considers her options. Love bites. In Persian with English subtitles.
Special offer from the Gene Siskel Film Center! Mention promo code "VAMPIRE" at the Film Center box office, and you can receive $7 discount tickets (a $4 savings)! Now playing through January 15 – http://www.siskelfilmcenter.org/agirlwalkshome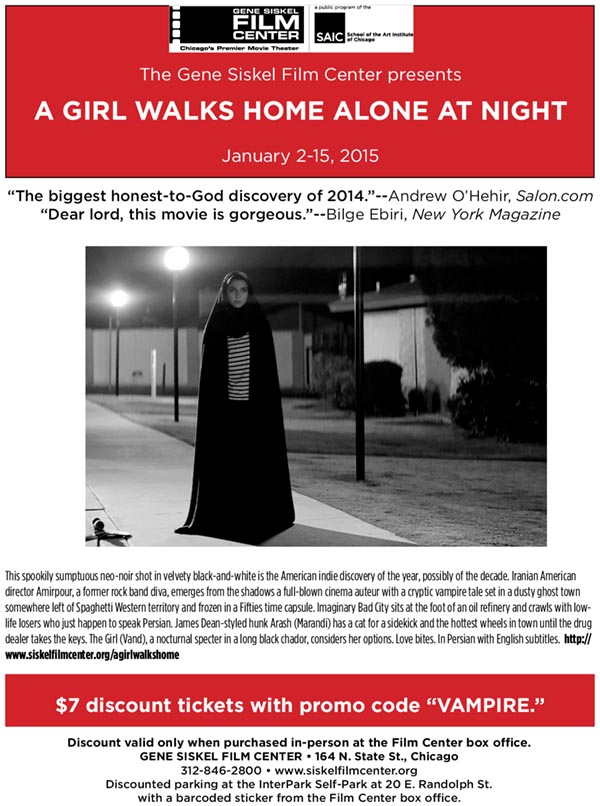 You must log in to post a comment.