The Horror of the Humanities 2 at DePaul University
Posted : October 2nd, 2014
On Wednesday, October 29, 2014 (6:00-9:00 pm in room 120 of the DePaul Student Center), join us for our second annual Horror of the Humanities by welcoming Ben Wheatley: Kill List Screening and Q&A
The DePaul Humanities Center's second-annual Halloween-themed event features a variety of avant-garde exhibits exploring the horrific in the mundane as well as the relationship between horror and various fields within the humanities. The exhibits highlight the horror of modern crises surrounding the environment, homophobia, race, gender and technology, among others. This year, the exhibits will be paired with a screening of the cult movie masterpiece Kill List and a talk and Q&A with the film's celebrated director, Ben Wheatley.
Wheatley, who recently directed the two premiere episodes of the newest season of "Doctor Who" on the BBC, has helmed an impressive list of cutting-edge films, including Sightseers, Down Terrace, and A Field in England. We are honored to be welcoming him to the Humanities Center, and to be screening Kill List – a brilliantly nuanced work of art that investigates the nature of evil and true horror while also earning its reputation as one of the creepiest and creepily-thoughtful films ever made.
Details HERE.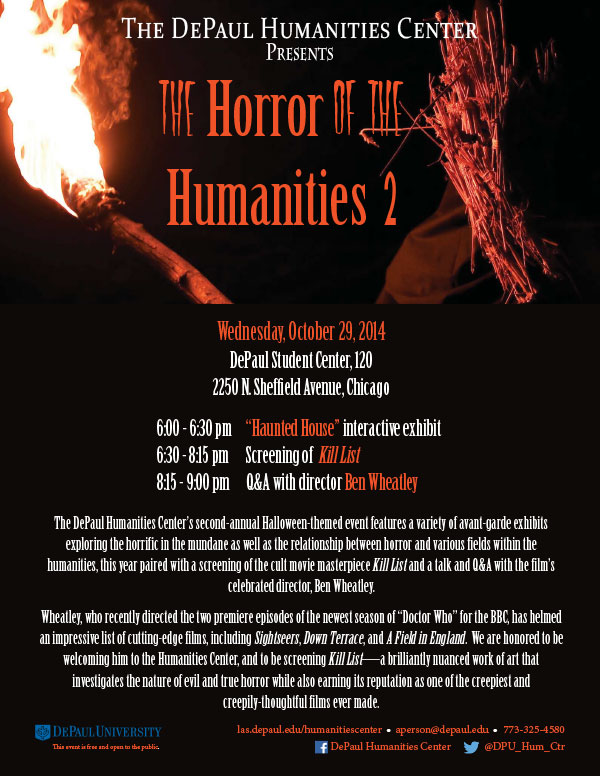 You must log in to post a comment.