Night of the Living Dead at Three Brothers Theatre
Posted : October 6th, 2014
Three Brothers Theatre brings a Haunting Production of a Classic Horror Flick to stage in time for Halloween
Waukegan, IL, 10/03/2014 — Three Brothers is celebrating the Halloween season with a stage adaptation of Night of the Living Dead, opening October 17th and playing through November 1st at 8pm on Fridays and Saturdays. George Romero's classic movie Night of the Living Dead follows the story of Barbra and Ben.  Escapees of a strange phenomenon taking place in the countryside of Pennsylvania, they stumble across an old farmhouse where they find refuge.  They board up the windows and doors only to find that they are not alone.  A family with a very sick child is down in the cellar.
Three Brothers Theatre is producing Night of the Living Dead as part of their stage to screen series.  Every play in this series has been a movie adapted for the stage.  Executive Director, Josh Beadle explains why Three Brothers chose this particular horror film, 'We're thrilled to bring Night of the Living Dead to our stage.  I'm a huge zombie fan and to bring the first zombie movie ever made to the stage is a real treat for us and our audience.'  Among the treats onstage will be a handful of local actors including Brad Paschall, Christopher Johnson, Darreyl Atkins, Caroline Beadle and David Motley.
Plays about zombies have become a consistent theme for Three Brothers during the Halloween season.  Artistic Director, Caroline Beadle talks about the choice that Three Brothers as made to consistently present something in this theme, 'we like to present something sort of like holiday fare for our audience.  Many theatres present A Christmas Carol or other holiday shows in the winter.  We'd like to be known for presenting Halloween themed productions.  Waukegan has an annual Zombie Walk and this is also a way for us to connect with the community on a larger scale as well.  Plus it is a whole lot of fun!'
Night of the Living Dead will run October 17th- November 1st at Three Brothers Theatre, 115 Genesee Street in Waukegan.  Friday and Saturday nights at 8pm.  Tickets are $20 for adults and $15 for students and seniors.  Please call 319-621-0024 to reserve tickets or purchase at the box office.  Visit Three Brothers Theatre online at 3brostheatre.com.
For additional information and tickets contact: Caroline Beadle, Artistic Director, Three Brothers Theatre, 847-406-0089, costabeadle@gmail.com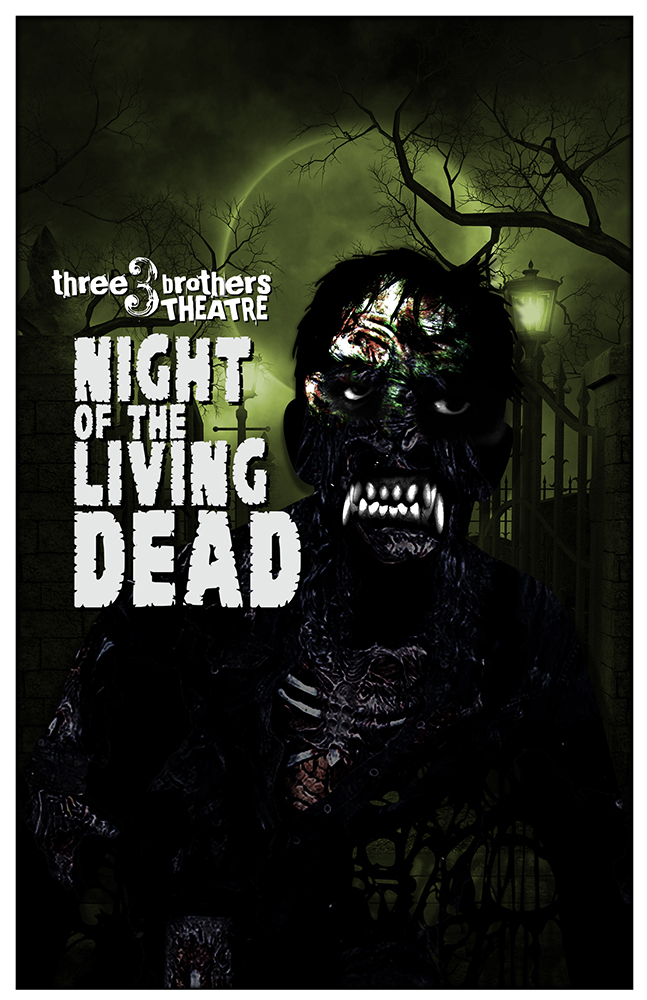 Leave A Commentposted in Zombie Theater by Chad Savage