3rd Annual Zombies vs. Vampires Halloween Pub Crawl
Posted : October 1st, 2014
10/25/2014
12:00 am
to
11:59 pm
The Zombies vs. Vampires Pub Crawl (ZvV) is back with record breaking ticket sales. CostumeCrawls.com and Halloween Hallway are promising ZvV to be the hottest ticket for spine-chilling fun this Halloween season.  On Saturday, October 25th, starting at noon, Halloween Hallway will register thousands of Zombies and Vampires.
The ZvV Pub Crawl registration will be held at Halloween Hallway's Wicker Park location at 1275 N. Milwaukee Ave.  At registration ZvV attendees will receive a survival kit which includes: A map, a t-shirt designed by Fireball Whiskey, a wrist band for entry and discounted drinks at the participating pub crawl bars, and entry to the epic after "Death" party.
CostumeCrawls.com and Halloween Hallway will unleash the ravenous Zombies and Vampires to hunt their prey into the Wicker Park neighborhood at 2 PM.  The event will be photographed by renowned New York photographer Brandon Tobin.  During the ZvV pub crawl participants will collect a playing card at each bar in an effort to produce the best poker hand. The three best poker hands and best overall costume will win prizes like Bears tickets, brew tour tickets, Bulls tickets, etc.
To purchase tickets go to http://CostumeCrawls.com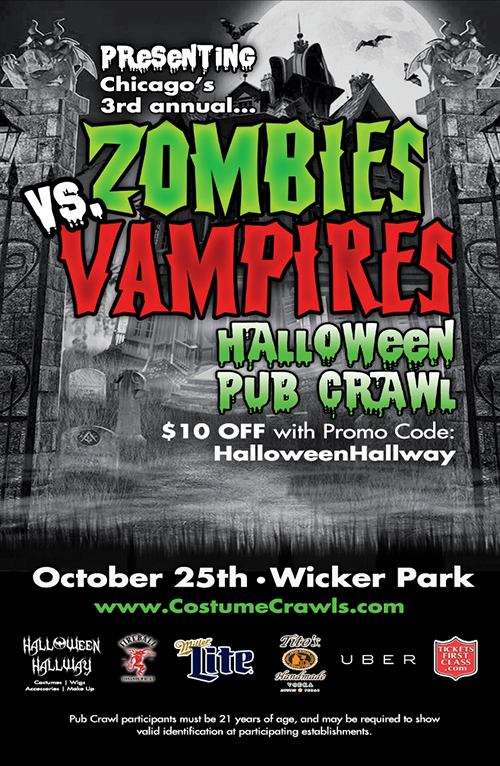 Leave A Commentposted in Events by Chad Savage
Posted by Chad Savage
Tags: Zombie