Posted : February 10th, 2016
Comments: 0
February 8, 2016- Chicago, IL- BOY BAND CROONER KILLS TEENS IN THEIR SLEEP AT THE PUBLIC HOUSE THEATRE
Freddy's Back! Backstreet's Back! The hit musical is back and ready to invade your dreams again. Once upon a time, a town burned a baby killer alive. Now, Teddy Crooner is back, and he's stalking the dreams of heart-sick teenagers with impossibly catchy music and a crew of pop-tastic back-up dancers.
"A Nightmare on Backstreet" hilariously goes where no musical has gone before: it combines the story of the original Nightmare on Elm Street movie with the music of '90s boy band sensation Backstreet Boys. In this new live action horror parody, the teenagers of Backstreet are all having devilish nightmares about the same guy, Teddy Crooner. And no matter how distracted they get by all the '90s boy band singing and dancing, just like in Nightmare on Elm Street, if they die in their dreams, they die in real life. A Nightmare on Backstreet combines '90s nostalgia and classic horror tropes to make a musical parody not to be missed.
"A Nightmare on Backstreet" runs on Fridays and Saturdays at 8pm, and again on Saturdays at 10pm through March (3/4-3/26/16), with a preview on Tuesday, March 1st at 8pm. The show is produced by The Public House Theatre and weAreproductions (Maul Santa, Babysitter Massacre '78: The Musical, and BATES: An 80's Psycho Musical Parody.) Written by Ricky Glore and directed by Molly Todd Madison. Music Director: Amber Linde. Choreography by Holly Gombita. Starring: Brittny Congleton, Xavier Euzarraga, Ashley Geron, James Grino, Emily Hawkins, Zach Madison, Roy Samra, Aaron Sarka.
Runtime: 75 min.
Tickets: $15
http://pubhousetheatre.com/a-nightmare-on-backstreet-a-boy-band-musical-parody-2/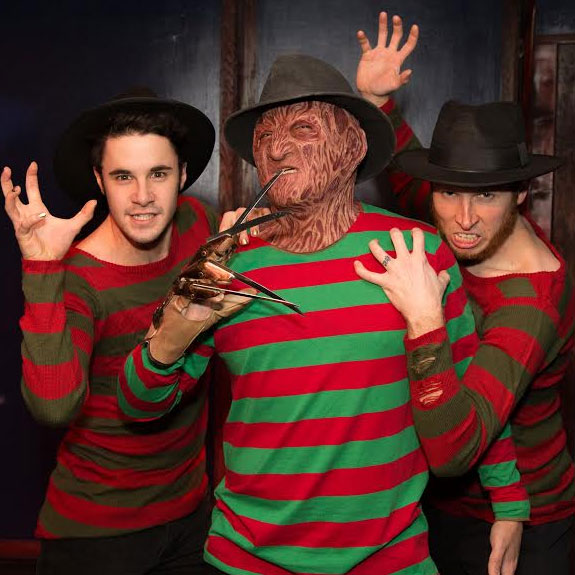 Leave a Comment
Go to Post...