WildClaw Theatre presents Scott T. Barsotti's THE REVENANTS
Posted : January 7th, 2015
Previewing January 8 & 9, then opening Saturday, January 10th, 7:30pm at the Athenaeum Theatre, 2936 North Southport, Chicago, IL. Running through February 22, 2015 with performance times Thursday thru Saturday at 7:30pm, and Sunday at 3:00pm.
Directed by Brad Akin, and featuring company member Josh Zagoren as Gary, with Elizabeth Birnkrant as Karen, Krista D'Agostino as Molly, and Drew Johnson as Joe.
In The Revenants, a violent uprising of the undead forces two couples into hiding, and infected spouses take a turn for the worse. Gary and Karen tether their turning partners, Molly and Joe, for the safety of all; but as Molly and Joe fall deeper into sickness, the question of whether or not they are still themselves becomes harder and harder to answer as they become more threatening. As Gary and Karen come face to face with the true meaning of commitment, they must ask of each other: when does love die?
WildClaw is thrilled to present this new production of The Revenants, after bringing Chicago the Midwest Premiere of the play in 2009, which played to sold out houses at Angel Island Theater. This revisiting of Barsotti's intimate, novel take on the zombie genre, which has since had productions across the country, continues WildClaw Theatre's quest to bring intelligent and imaginative horror to the Chicago stage.
Brad Akin (Steep Theatre) has assembled a remarkable production team for The Revenants, with costume and makeup design by WildClaw Artistic Director Allison Greaves Amidei, set design by Dan Stratton, lighting design by John Kelly, sound design by Rick Sims, violence design by Scott Cummins, props design by Janelle Boudreau, blood effects by Gore Engineer Ryan Oliver, and movement direction by Scott T. Barsotti.
Tickets $17-$25, with student discounts available. For more information, please visit athenaeumtheatre.org or www.wildclawtheatre.com.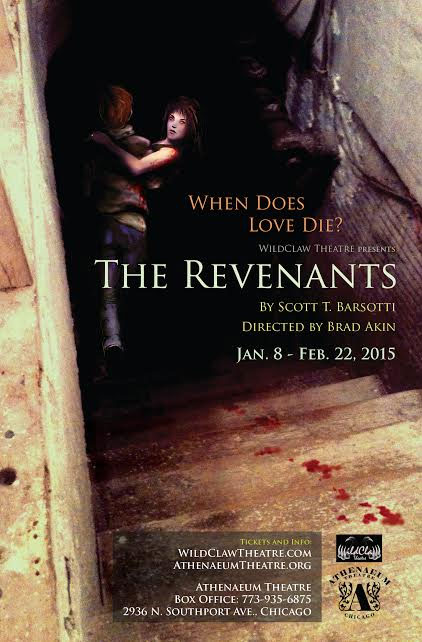 You must log in to post a comment.