Posted : September 23rd, 2015
Comments: 0
Dream Theatre Company presents the 3rd of the critically acclaimed horror plays -AUDIENCE ANNIHILATED PART 3: THE TROUBLE WITH ANGELS by Jeremy Menekseoglu at Dream Laboratory located in Chicago's Lincoln Square neighborhood at 5026 N. Lincoln Ave.
Part haunted house, part horror show, Dream Theatre Company once again shatters the boundary and blurs all lines between actor and audience with this third incantation in the AUDIENCE ANNIHILATED series. Audience members will chose one of two roles to play. To play the lead role, chose Angel (up to 4 people) and be completely immersed in the terrifying story interacting with the menacing figures around you. Or if you are too scared, you can choose to be a part of the gallery audience of 16, the Choir role is for you where you watch the horror unfold before your eyes. Each performance must have at least one Angel.
YOU stand in a dark woods, prickly branches reaching out towards your face. You're on a trail that leads to the cabin where your mother has recently taken you to live. She has told you never to go outside, but she has been drinking more and more lately, and is so easy to disobey. The air is thick with the sounds of mosquitoes and feasting flies. The remains of a dead animal lies at your feet. YOU hear someone's rattled breathing beside you.
Menekseoglu's immersive experience has been deemed a "poetic phantasmagoric" and "thrillingly too close for comfort." The Chicago Reader recognized Audience Annihilated in the 2014 Best of Chicago awarding it Best 15-Minute Horror Show and calling it "the most chilling horrific 15 minutes I've endured in a long time…you walk away from the experience feeling thrillingly alive."
AUDIENCE ANNIHILATED PART 3: THE TROUBLE WITH ANGELS showtimes are on the hour and half hour and runs about 20 minutes. Doors open no more than 5 minutes prior to the performance and there is no late admission. Show times are 8 p.m., 8:30 p.m., 9 p.m. and 9:30 p.m. on October 23, 24, 25, 28, 29, 30 & 31 and November 1. Additional 10 p.m. performances will be added on October 30 & 31. AA3: THE TROUBLE WITH ANGELS features the ensemble including: Nicole Roberts, Anna W Menekseoglu, Amanda Lynn Meyer, Madelaine Schmitt, Kaitlin Stewart, Lauren Stanek, Nyle Kenning & Jeremy Menekseoglu. Stage Managed by Ellen Cullen. Production and design by the ensemble.
Reservations are required as seating is limited. Tickets are $20 and can be purchased via the Dream Theatre Company website at www.dreamtheatrecompany.com. For more information please contact Anna W Menekseoglu at 773-552-8616 or by email at [email protected].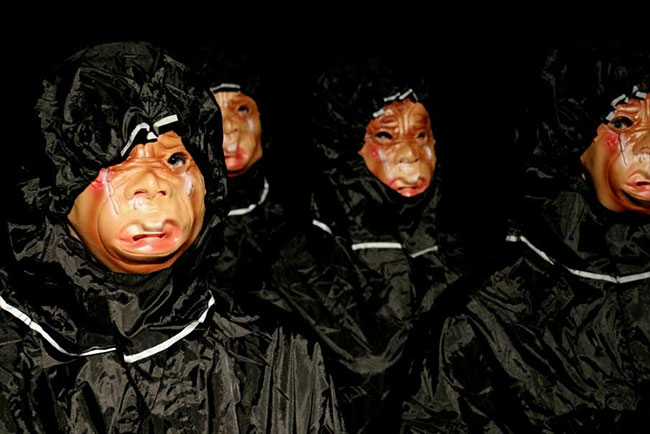 Leave a Comment
Go to Post...