Posted : April 20th, 2016
Comments: 0
WildClaw Theatre Company is proud to announce the submission window for our upcoming DEATHSCRIBE 2016, the NINTH Annual International Festival of Radio Horror Plays. Submissions will be accepted starting MAY 1st and will close JULY 31st. This festival is open to all, and there is no fee for submission.
DEATHSCRIBE is a one-night-only extravaganza of original short radio plays, written by horror enthusiasts from around the globe, produced by some of Chicago's finest actors, directors, musicians, sound effects artists, and special guest stars, plus a celebrity panel to judge the best of the fest! Shape your fear into a 10-minute radio play complete with LIVE FOLEY and send it to WildClaw Theatre starting MAY 1st! Five finalists will be selected, and their scripts performed live on Monday, December 5th 2016. The author of the best of the festival will be awarded the coveted Bloody Axe award and a $100 cash prize.
Please visit http://www.wildclawtheatre.com/deathscribe/ for submission rules, regulations, and information on previous shows. If you have any questions regarding submission guidelines or policies please contact literary@wildclawtheatre.com.
We are looking for 10-minute radio scripts that are genuinely scary, imaginative, chilling, intelligent, suspenseful, horrific, or downright grotesque. There are no restrictions as to content or tone, but keep in mind that WildClaw is a Horror Theatre. We take our horror seriously, and so should you. We want stories about serial killers, insects, distorted squirrels, cannibals, deep ones, plagues, demonic possessions, dogfish howlers, werewolves, vampires, zombies, aliens, and of course, the monster within.
FOR PRESS INQUIRIES ONLY: If you have any further questions concerning the DEATHSCRIBE submission window or WildClaw Theatre, please contact Moira Begale, Managing Director at moira.begale@wildclawtheatre.com.
WildClaw Theatre brings the world of horror to the stage. We attract an audience craving strange journeys of dread, suspense, terror and wonder: Horror Theatre. The name "WildClaw" pays homage to the late, great Chicago actor, writer, and raconteur – the much loved and missed Ray Wild, otherwise known as "The Claw".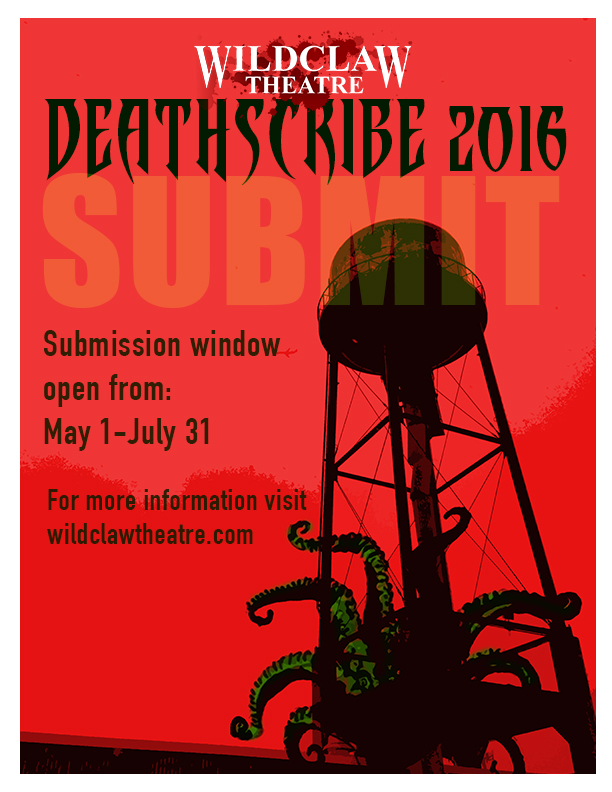 Leave a Comment
Go to Post...