Posted : September 22nd, 2016
Comments: 0
The Massacre: 24-Hours-of-Horror-Movie-Madness! Saturday, Oct. 22nd at the Patio Theater, 6008 W. Irving Park Rd., Chicago, IL 60641
Special Guests: Lynn Lowry (star of They Came From Within, The Crazies, Cat People) and Tommy McLoughlin (director of Friday the 13th Pt. 6: Jason
Lives, One Dark Night)
Doors open at 11am.
Noon 'til Noon
Partial Film Line-Up:
DR. PYCKLE & MR. PRIDE (Stan Laurel Silent film with live
organ by The Phantom)
HOUSE OF FRANKENSTEIN (Boris Karloff, Lon Chaney Jr.)
Sponsored by House of Monsters
BLACK SUNDAY (Mario Bava!)
ASSAULT ON PRECINCT 13 (John Carpenter!)
50's Fake Trailer Shorts
THEY CAME FROM WITHIN (aka SHIVERS)
(Cronenberg Craziness!) with star Lynn Lowry in Person!
FRIDAY THE 13th Pt. 6: JASON LIVES (30th Anniversary!)
Director Tommy McLoughlin in Person!
HOUSE BY THE CEMETERY (Lucio Fulci) with star
Giovanni Frezza! Sponsored by Blu-Underground
EVIL DEAD 2: DEAD BY DAWN (Raimi Rules!)
INFERNO (Dario Argento Classic!) Sponsored by
The Secret Cinema!
THE GRAPES OF DEATH (Jean Rollin!)
LOST BOYS (80's Awesomeness!)
More Films To Come!
Plus: Fake 50's B-Movie Trailer Competition Entries:
The Giant Hand – by N.M.E. Films
The Eighth Victim – by Nathaniel Sexton & Christopher Green
Red Herring – by Ava Nancy & Bryan Behooved
SOME THING – by weAREproductions
Coco's Revenge – by The Terrible Terrazas Gang
Monsters Against Mars – by Bargain Basement Productions
It Came From Everywhere! – by Grand River Pictures
The Invasion of the Disco Loving Robots From Planet X -by Lomai
Midnight Mystery – by Bernie Gonzalez
Flamhimibimimus – by Taylor Cook
It Sucks – by Landon Reese Deaton & Michael Jones
The Rug Bug from Outer Space – by StarLight Pictures
El Gato by The Perez Brothers
It Came From The Night – by Andrew Bertholf
Evil Waves – by Champions of the Cosmos
Donna and Daphne – by Katryna Oliveau
The Satanic Panic of Boddington Village – by Christopher Kahler
The Atomic Cat – by Lloyd James Emmons
American Nightmare – by Suburban Scum Studios
Short Films Include:
BLOODSPRAY – by Pat O'Sullivan & Mike Vanderbilt (Presented by Daily Grindhouse)
PLAY DEAD WITH ME – by Adam Michaels & Chaz Dray
Sausage Fingers – by Lowcarbcomedy.com

A Diary of Fear 'Chapter One' By Patrick Miken Lewtschanyn

"Pay Your Respects" by Actual Murderers Comedy

Whoa, I'm Dating a…Werewolf – by Tim Troemner
Vendors include:
The Cryptic Closet
Horrorbles
House of Monsters
Reel Art
The Art and Musick of Judgehydrogen
Bric-a-Brac Records
12 Gauge Gore
The Art of Ruff
Infected Resin Toys
Chris Kuchta Painter
Pat's Toy Trunk
Chicago Sci-Fi Horror
Sci-Fi Horror Chicago
Ferrule Child – The Art of Jeff Busch
Taco In A Bag
Alan Table
Tickets are $20 presale, $25 at the door, day of show.
Presale tickets at these fine store:
LAURIE'S PLANET OF SOUND (4639 N. Lincoln Ave.,Chicago)
ALLEY CAT COMICS (5304 N. Clark St., Chicago)
HORRORBLES (6729 Stanley Ave., Berwyn)
BUCKET O' BLOOD BOOKS AND RECORDS (3182 N. Elston, Chicago)
PERKOLATER
THRIFT & THRIVE
Presale tickets available online here: http://www.brownpapertickets.com/event/2582089
Pay Once, Come And Go As You Like!
Free Parking On Side Street (Please Check For Permits!)
Plus: Vintage Trailers, Short Films, Vendors, Prizes, Surprizes & More!
Films, Guests, Times Subject To Change.
Facebook Event Page: https://www.facebook.com/events/1330878270274537/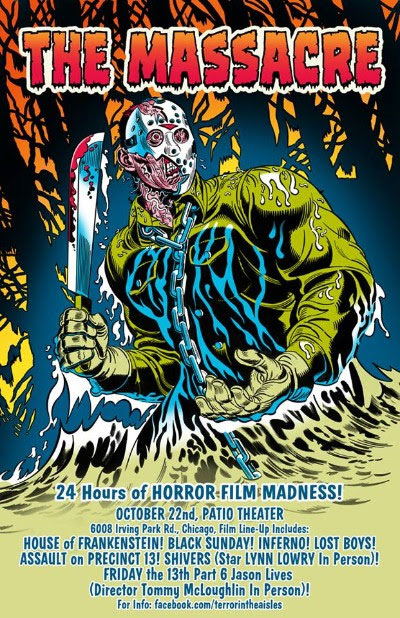 Leave a Comment
Go to Post...